After a so-so first half, the current season of Survivor ("Survivor: Caramoan") seemed like nothing to eat a writhing grubworm over. The inexplicable laziness of Shamar was annoying, and the meltdown of Brandon Hantz - while Train-Wreck TV - was so uncomfortable to watch that you couldn't help but question the producers' motives for bringing him back and your own motives for watching. Could we PLEASE get some actual gameplay?
Then came the Merge, and with it perhaps the best three-episode run in 13 years, certainly since the stretch of "Heroes vs. Villains" when Russell convinced Tyson to vote himself off. Thank you, Survivor Gods.
It started innocently enough when returning player Malcolm (who combines the physical skill of Ozzie, the savvy mind of Yul, and the life approach of a D&D warlock) confers with ally and delicious quote machine Corinne. They decide to betray their Favorites teammates and forge a new alliance with the remaining Fans. It should have worked. The Phillip-"led" Favorites had no inkling... until Corinne tried to bring super-crier Dawn into the fold.
In a treat to Survivor fans, Dawn tells us that she remembers what happened the LAST time she heard about a betrayal and did nothing: Cochran's epic flip (which I still support). This time, though, Dawn rises! And Corinne, who gleefully said that she had never been part of a blindside, gets her wish, Monkey's Paw-style. Bonus: Lovable nerd Cochran beats Malcolm in a thrilling photo finish of a classic Immunity Challenge - the eating of the gross local cuisine. Mmm, chicken embryos. Om nom.
It continued the following week with Malcolm's alliance definitely on the outs, Dawn & Cochran engaging in great strategizing, another terrific Immunity Challenge (combining endurance and willpower), and Andrea getting bizarrely paranoid. But hey, as that episode showed, sometimes they really ARE out to get you! The best part of that hour came at the end, when Malcolm - convinced (by Phillip?!?) that his fellow Favorites are out to get him - uses a Jedi mind-trick to persuade pal and other endangered player Reynold to surrender his hidden Immunity Idol to Malcolm! Kicker: Malcolm already HAD a hidden Immunity Idol that nobody else knew about! Brilliant!
(Another reason to like Malcolm: He doesn't succumb to the insane temptation to blab to everyone, "Look at me! I got the secret Immunity Idol!" As Gandalf told Frodo, "Keep it secret. Keep it safe.")
As it turned out, Malcolm didn't need it, but the end result is that Malcolm's hidden idol remained exactly that - hidden - and now everyone on the island was convinced that Malcolm couldn't possibly have an idol since he had to ask for Reynold's. Fabulous.
It perfectly sets the stage for this past week's episode. Malcolm, Reynold, and low-wattage Eddie know their backs will be up against the wall every vote until either they're gone or they find some cracks in Phillip's anti-stealth Stealth-R-Us alliance, which is already planning to split the next vote between Malcolm and Reynold. (To their credit, nobody aside from Phillip regards Phillip as the leader; they're content to let him run his mouth and be disliked by all potential Jury members.)
Let's jump right to the Immunity Challenge: a grueling water challenge requiring lots of upper body strength and the ability to hold your breath well. Phillip, shockingly, announces that he is NOT going to compete for Immunity! He tells Jeff that a childhood incident left him very afraid of drowning, so he's not going to do this.
OK, I can relate. I, too, have a deep phobia about drowning. A major accomplishment for me years ago was when I first tried (and loved) snorkeling. I understand where Phillip is coming from. BUT THIS IS SURVIVOR. If I were ever to be a contestant, I damn well would compete in every single challenge, even those where I knew I might come in last. Fuck the fear. Else why go on Survivor at all? So for Phillip to pass on this was a) incredibly dumb, b) evidence that - self-deluded as he was - he clearly felt safe, or c) both. Ultimately, Reynold wins the challenge, so the majority alliance figures no big deal, we'll split the vote between Malcolm and Eddie instead!
Malcolm doesn't rest. He's gambling that there's another Immunity Idol hidden somewhere on the beach, so the Three Muy Macho Amigos start searching. The possibility that "Hey, maybe we should find the idol before those three guys" apparently occurs to no one on the Stealthy alliance other than Dawn and Brenda; they start looking, too. Right before the ladies' stunned, shocked eyes, though, Malcolm finds the other idol! The look on Dawn's face said it all: Crap. Still, they figure they'll split the vote as planned, just in case Malcolm gives the idol to Not-So-Fast Eddie.

At Tribal Council, before the voting even starts, Malcolm displays his newly found idol... and then reveals his original one, which he gives to Eddie! All three guys are potentially safe. Wow. Sure, Malcolm could've waited until after the votes were cast to make his move. But what places his action in the top tier of Survivor moves is what comes next. He announces that all three men are voting for Phillip. This kicks off something unprecedented in Survivor: The tribe members begin openly whispering and changing their votes on the fly. Right there! Cochran smiles the smile of a fanboy, even though his side is on the receiving end of this shocker, and I'm smiling right with him. It's stupendous. Beautiful. Phillip's name is whispered, and so is Andrea's. Who would be voted off? Would Malcolm and Eddie actually play their idols? Will I ever recover from the fact that it was Clueless Erik who actually pointed out that not playing the idols was an option?

In the end, everyone votes as originally stated, which means the majority alliance's votes are for naught and Stupor Secret Agent Phillip - the man who refused to compete earlier that day - is eliminated with just three votes.

Karma, you are a magnificent bastard.

And with Phillip goes Stealth-R-Us (huzzah!), which also means that alliances may be up for grabs from here on out. Fabulous. What did you think, fellow Survivor buffs?
Current Mood:

devious
Are we the last generation of tabletop RPG gamers?
" with a solid No – at least not unless future generations become Cybermen and lose the great power of imagination. Granted, it may seem challenging to pitch pen-and-paper RPGs to kids in an age of easy-to-use video and console games, not to mention iPad and Kindles. However, if there's one thing I've confirmed after five years of parenting is that kids REALLY want to stretch their imaginations. (I've also confirmed that they think farting is hysterical and mushrooms taste yucky, but I digress.)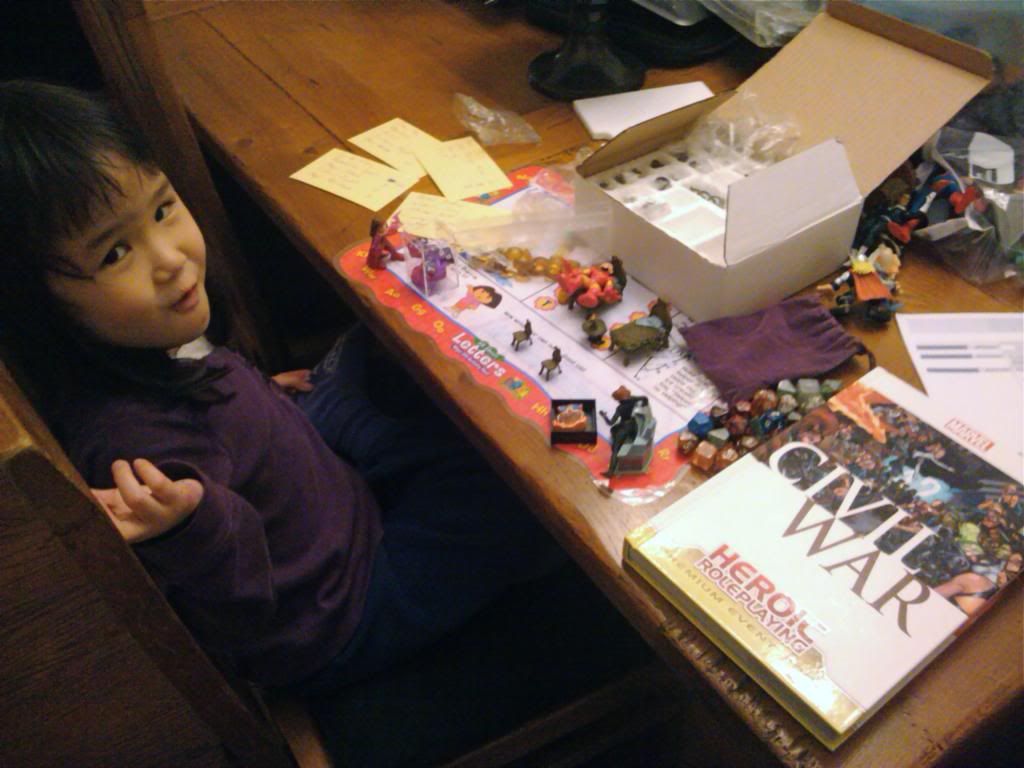 My daughter Jordana (now 6) and I have pulled out my D&D minis, maps, and Castle Ravenloft tiles many times during the past three years, often at her request. Over time, our pseudo-D&D playsessions have evolved from lining up the minis for a dance contest to skirmishes with giant spiders to – last year – creating an entire town on GameMastery maps and Dungeon Tiles. "This is the house, this is the diner, and THIS is the hot lava area." She chose specific minis to represent the town's mayor, innkeeper, rabbi, fighting instructor, and other residents. It was pretty damn cool to watch, both as a gamer and as her dad.
Right around that time, the always-awesome Geek's Dream Girl site posted "
D&D The Next Generation – GGG Gives Tips for Gaming with Kids
." The blog post is worth reading. In a nutshell, the advice is to keep the DM strokes broad, use humor often, and keep in mind that many kid gamers – just like adult ones – have specific gaming preferences that you need to respect. This post, combined with my own experiences, convinced me that the time was right to run Jordana through an actual game.
Gaming with My Kid #1: rpgKids – the saga of a girl, her brother, and their steel snake
The ideal starting place was the
rpgKids
game by Enrique Bertran, a.k.a. "NewbieDM." It's a clever, rules-light, kid-friendly fantasy RPG. The rules are simple, with four classes that correlate to the classic D&D foursome, a few basic skills, and a grid for combat, which is resolved via contested rolls using just several dice. Damage is also handled simply: strike a foe once = injured; hit 'em a second time = down, though the Big Bad might require 3 hits to defeat.
Jordana assembled the party from her town: the sorceress Ayla (wizard), her swashbuckling brother Zeph (archer), and their "pet" steel serpent, Kobri (fighter). Jordana determined that Kobri wears a magical collar that allows him to speak. Together, the siblings and the snake entered "The Lair of the Frog Wizard," the introductory adventure in the rpgKids download. Can they stop the evil wizard who is turning townspeople into frogs? Do we know why he's doing this? Naaaah! Doesn't matter.
The session went extremely well! Jordana loved rolling the dice and – just like a grown-up gamer – got frustrated when her attacks missed, anxious when one of her PCs got hit, and super-excited when she successfully killed a monster. She even quickly grasped the concept of terrain, occasionally placing a PC behind a tree or rock for cover. The only time she seemed unsure of the whole thing was when several ghosts appeared. She was a bit scared of them at first, but once combat began, gamer's adrenaline took over. :-)
As a DM, I had to be ready to make on-the-fly changes to accommodate the plot, the pace, and my player (e.g., changing the size of an encounter), just as I would if I were running a game for adults. If you have a kid aged 4 or older, rpgKids is a great way to introduce the excitement and fun of RPGs. It's available for a ridiculously low $2.99 at
DriveThruRPG
.
Gaming with My Kid #2: Marvel Heroic RPG – Assault on Avengers Mansion!
I've gotten really into
Margaret Weis Productions' Marvel Heroic Roleplaying
over the past few months. Next week's post will have a lot more to say about it; for now, suffice it to say that, if run properly, the Marvel Heroic RPG does the best job I've seen of replicating the flow of battle, the soap-opera subplots, and the fun of classic Marvel comics.
After digesting the rules and listening to a few podcasts (mostly
The Walking Eye
's actual-play sessions and
Damage Control
), I finally ran a session for my group earlier this month. Jordana, upon hearing of this the next day, said, "I want to play the Marvel game, too!" (Being my daughter, she is of course well acquainted with Marvel superheroes.) "Sure!" I said. Granted, I needed to do a little revising first. While the Marvel Heroic RPG is fairly easy to play once you grasp the key concepts of dice pools and Distinctions, it's a bit much for a typical 6-year-old who is just looking for an hour or so of fun.
So here's how I tweaked the rules for a kid-friendly, Marvel RPG-Lite session:


Reduced each hero's datafile to 4 stats (3 powers + 1 specialty), three of which can be used toward the dice pool


Kept the concept of adding the top 2 dice, but dropped the effect die, so that combat resolution was a straightforward opposed roll; it was still possible to gain an extraordinary success


Flattened the three types of stress to just plain ol' Stress (1st hit = d8 stress, 2nd hit = d10 stress, 3rd hit = stressed out), and the stress die could still be added to another character's dice pool against the injured person


Turned a roll of 1 by me into an automatic extra die for the next roll by one of Jordana's heroes, and vice versa (kind of a use-it-or-lose-it Plot Point)


Jordana chose as her heroes Iron Man, the Black Widow, and the Scarlet Witch. She also gave the Scarlet Witch an animal companion, Owl the Owl. (Holy Familiar, Batman!) Naturally, Owl the Owl needed his own datafile and powers, hence we agreed on See-Through Vision, Hearing, Flight, and a Gem of Protection. (See the photo. It's fairly easy to tell which of us wrote what!)

As our story begins, the three heroes (and their owl) are content to relax in Avengers Mansion, and the Black Widow is on monitor duty. Suddenly, there's a pounding on the wall. It's getting louder and LOUDER... The Black Widow quickly alerts the other heroes. Then - SMASH! The wall crumbles, and two massive robots stride forward! Clearly, determines Jordana, they're after the Infinity Gems hidden in the mansion! (Thank you, Super Hero Squad Show.)

Black Widow strikes first, successfully damaging one of the robots. Jordana picks Owl the Owl to go next, saying, "She's going to use her See-Through Vision to look into the robots and tell Iron Man where the weak spots are."

I think, "Holy crap, she just created an Asset." I hadn't even considered using the game's Assets or Resources for this version, but hey, there ya go!

Jordana rolls for the Owl and – bing! – Asset created! Shellhead's resulting attack is a big success, and his repulsors finish off the first robot and damage the second. The Scarlet Witch is unable to destroy that last attacker, though, which gives the robot enough time to locate and rip open the vault containing the Infinity Gems! It collects them, but Iron Man blasts it before it can leave. All done, right? Unfortunately, at that moment, the robots' master steps through the gaping hole in the wall.... Ultron. (For Ultron, the core dice pool consisted of 5 dice, not 3, and two of those were d12s. Hey, it's friggin' Ultron!)
Jordana isn't thrilled to see him! In typical 6-year-old fashion, she wants to have her three heroes just smash Ultron and be done with it, 1-2-3, but I remind her that Ultron is TOUGH. The Black Widow again attacks first, ineffectually this time, and Ultron promptly throws her through the broken wall, stressing her out (Marvel RPG-speak for K.O.'d). Iron Man lasts a little longer, but he too joins Natasha in the dumpster behind Avengers Mansion. It's down to just the Scarlet Witch... and Owl the Owl.
Jordana announces that Owl also has a "shriek" power. "OK," I say. Why not? After all, it IS a super-owl. She adds Shriek to Owl's datafile and rolls. Hey, not bad... a total of 16 on the Shriek attack. Now for Ultron's reaction roll to counter it, which shouldn't be a problem as he's rolling 5 dice, including those two d12s, right?
The result of Ultron's reaction roll: 2, 4 ... and three 1's. Wow. Owl the Owl's cosmic hoot cuts through Ultron's systems like adamantium claws through butter! Normally, that would be enough to end the battle, but Jordana is having too good of a time! We continue, with the once-mighty Ultron staggering through the mansion, trying to repair his body and now spotting the fallen Infinity Gems in the wreckage of his robot minion.
The Scarlet Witch will have none of that! She casts a probability hex, opening up a mini-dimensional void next to Ultron. It sucks the metallic menace into it, along with (determined randomly) one of the Infinity Gems! Ultron is gone from this reality. But where? And will he come back, more powerful than ever? Those answers must wait until our next issue, True Believers!
As you might guess, Jordana and I had a great time doing this. So don't let anyone try to convince you that the age of tabletop gaming is dead. As long as we continue to help kids find ways to wield their exhilarating, boundless, trope-free imaginations, there will be room for games that allow kids to shape worlds.
Two years ago, I answered the question, "
Current Mood:

chipper
Survivor
starts tonight!
Survivor: Caramoan
is the second time they've done "Fans vs. Favorites," and while many fans are tired of seeing returnees, it's safe to say: a) having no three-time contestants is a good thing, and b) to date, most of the returning players
have
added a lot of intrigue and entertainment. So we're good.
Will Brandon Hantz again be Caramoan-ing about a beautiful woman being a vile temptress? Will Philip Sheppard, "the Specialist," show off his baggy boxer briefs while promoting his new spy novel? (
Yes, really!
) Will last-season fave Malcolm receive the "stranger danger" tag from the other returnees and get voted off? Will new player and BMX bike salesman Mike reveal that his many tattoos comprise an elaborate map to all the Immunity Idols?
Quick picks:
First returnee to get voted off: Brandon. Too nutty to be trusted.
Returnee who will surprise us: Erik. He has much to prove after his humiliation in the first "Fans vs. Favorites." He'll do so.
Final Three: Returnee Brenda (a great schemer) and two newbies, Eddie and Allie.
Winner: Allie. She's a bartender, she's from New York, and she's dismissive of bad liars while not knocking lying. "I don't even mind if you lie to me, just keep track of your lies, you fool." That's good enough for me!
Thoughts? Share 'em below.
The new season of
a little while ago
, I've sampled a few of the recent "Marvel Now!" books, including the pretty cool
Indestructible Hulk
. But the most notorious of the recent stories is one that sets the stage for a new Marvel Now title, and that's "Dying Wish" in
Amazing Spider-Man
#698-700, with 700 being billed as the FINAL issue of
Amazing Spider-Man
and the end of Peter Parker as the webslinger. The title is giving way to the
Superior Spider-Man.
What does all that mean?
Here there be
SPOILERS.
Skip ahead to the paragraph with the Morbius image if you don't want to know any more.
Still here?
Amazing Spider-Man #698-700:
OK, in the shocking events of
ASM
#698, we follow Peter Parker in a typical day of his life, where everything seems to be going pretty well. In the first-person narrative, we see that Peter is feeling his mojo a little more than usual. Then he gets a summons from the Avengers to go to the Raft, a high-security prison for supervillains in New York Harbor. His arch-nemesis, Doctor Octopus, whom we know has been dying for a while, is on his deathbed and is apparently asking for ... Peter Parker. When Spidey asks for Alone Time with Doc Ock, we learn that Ock hasn't been
calling
for Peter Parker -- he IS Peter Parker, trapping inside this useless, dying body. And the mind of Doctor Octopus is now in Peter's body, with access to all of Peter's knowledge and memory. The entire issue had actually been narrated by Doc Ock.
It's a terrific twist by longtime Spidey scribe Dan Slott, who said he had been setting this up for
years,
and in the next issue,
ASM
#699, he revealed exactly how Otto Octavius pulled off the body-swap. The two foes face off a final time in ASM #700, where Peter tries desperately to get back into his own body before Ock's body fails, yet Otto-Spidey seems to have anticipated his every move. Peter-Ock hits the end of the road. Still, in his dying moments, he manages to mentally force Otto to relive all the key events in Peter's life, giving the shocked, humbled Octavius a new insight into what made Spider-Man so indomitable. He learned the good old Stan Lee lesson: with great power comes great responsibility. Otto vows to Peter that he'll protect his loved ones and honor his name... and with that, "our" Peter Parker dies, and Otto -- still arrogant even as a "hero" -- says he'll be a better Spidey than Peter ever was, hence the
Superior
Spider-Man.
Naturally, comics fandom being what it is, this story caused a ruckus! Disturbingly, Slott even received death threats. (Jesus, really, folks? I know we get emotionally invested in these books sometimes, but it's still a
fictional character.
I'm sure a few of the folks who got crazy-mad had been mocking
Twilight
fans months earlier for threatening Kristin Stewart after she cheated on "Edward.")
The big question, though, is:
Were these good comic books?
For
ASM
#698 and 699, the answer is a solid yes. For readers who managed to avoid spoilers, the twist in #698 was simultaneously infuriating, stunning, and jaw-droppingly brilliant. Seeing the "magician's trick" in #699 was cool, too, as was seeing the dying Peter-Ock figuring out a way to escape the Raft. As for the finale in #700, it had a big bar to clear. Not only was it the last issue of
Amazing Spider-Man,
but in today's world -- with advance solicitation of upcoming issues and Internet spoilers -- the days of being totally surprised by an "event book" are gone. Thus, the ending loses a bit of steam. Still, Slott makes it work, and the death of Peter Parker is an appropriately damn sad occasion.
Overall, "Dying Wish" succeeds as an excellent comic book tale -- on its own merits. Taken as part of the Marvel Universe, however (and taking into account the money machine that Spidey-merchandise continues to be), do you or I have ANY doubt that somehow Peter Parker will return to life in, say, two years and kick Ock out of his body? Johnny Storm was "killed" two years ago; he came back to the FF. Both Captain America and Batman were killed; they came back (in a couple of nutty ways, admittedly). And let's not forget the Big One: the Death of Superman in the early '90s. How long did
that
last?
That's why I can't get overly excited about this tale, one way or the other. I didn't include it in my previous post of the year's Top 10 for that reason, and frankly, I can't see myself picking up
Superior Spider-Man.
Just because the story was excellent doesn't mean I much care to read what will be the short-lived career of Spider-Ock. Also, the tiny, cynical part of me realizes that Marvel is aware of this sentiment and will be more than happy to market "the Return of
Amazing Spider-Man"
in 2014. Rating: 4.5 out of 5.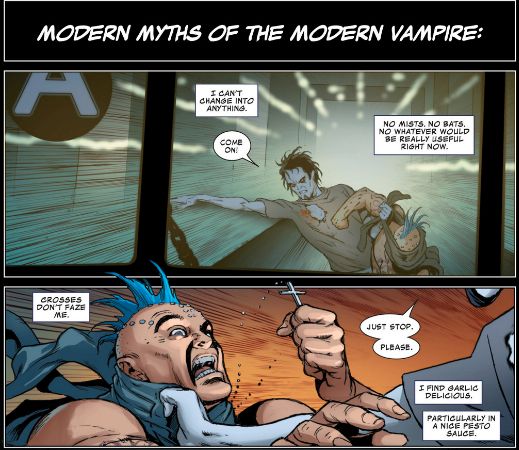 Morbius the Living Vampire #1:
Yep, I'm an admitted longtime fan of the scientifically cursed Michael Morbius, going all the way back to
Amazing Spider-Man
#101-102 by Roy Thomas and Gil Kane, after the Comics Code relaxed the post-EC Comics restrictions on supernatural characters. Neither strictly villain nor hero, Morbius has mostly just wanted to be left alone while he tried to find a way to peacefully (and non-fatally) satisfy his hunger for blood. After many appearances in Spider-Man's book the past few years -- and last year's garishly great
Legion of Monsters
mini-series -- Morbius has gotten his own title, by Joe Keatinge (
Glory
) and Rich Elson. It's an effective kick-off, with Morbius having finally traded in his '70s glam-goth outfit for a more nondescript hoodie and jeans as he hides out in the Brownsville section of Brooklyn.
You get a decent sense of the character's personality through the first-person narration, where Morbius helpfully explains what sets him apart from the undead variety of bloodsucker. And it's a good cliffhanger at the end. Still, I wish we had gotten more of a hint as to where Keatinge intends to take the series. Will it be as balls-to-the-wall nuts as Morbius' original color series in
Adventure into Fear,
or will be it more horror oriented? In any event, the first issue of
Morbius
offers enough of a reason to stick around and find out. Rating: 4 out of 5.
Avengers #1-2:
I think I figured out why I don't fully embrace Jonathan Hickman and Jerome Opeña's new
Avengers
title. Oh, make no mistake: I like it quite a bit. It's beatifully wriitten - almost poetic, in fact - and
it truly is "big, cool, and gorgeous."
But the title is meant to be the flagship of Marvel Now, right? It's capitalizing justifiably on the huge success of last summer's film and is intended to attract a "new audience" (the Holy Grail of modern comics industry), which would include a sizable group of young readers, too. All correct, right?
Yet after two issues of this mainstream superhero comic, there has barely been a punch. (In issue #2: zero.) Normally, that's something praiseworthy, and I don't mean to sound simplistic, but for a new title that yells "AVENGERS," shouldn't there be more POW or WHAM?
It'd be different If it were a continuation of an existing title; in such a situation, a creator should feel free to go nuts, as Hickman rightly did in his just-concluded
Fantastic Four
run. For this title, though, at this time, Marvel may be letting a golden opportunity slip through its fingers by not bringing some Whedonesque action to the printed/digital page of this new comic. Rating: 3.5 out of 5.
As mentioned
Greetings, 2013! Your predecessor, 2012, was a disappointment, mostly due to reasons having nothing to do with this blog. Granted, the Mayans did provide amusement. Fortunately, from the perspective of pop culture and All Things Geek, 2012 was humongous! Remember that stuff that got you ostracized or mocked 20 or 30 years ago? Well, they're money-making machines now. (Whether or not that's a good thing is a different story....)

Here are my picks for the top 10 tidbits:

10. The Hobbit and 48 frames per second. On its own, Peter Jackson's cinematic return to Middle-Earth would be newsworthy. But the director caused an Internet freakout when, at a summer convention, he secretly unveiled the first Hobbit footage – which he had shot at the newly developed 48-frames-per-second rate (double the century-long standard of 24 fps). The reaction was not good, with many commenters saying the crisp realism of the new rate made the film resemble cheap video, almost like '70s Brit TV. The controversy dogged the film for months prior to its December release.
9. The SOPA blackout. You likely forgot about the Stop Online Privacy Act (SOPA). You should remember, though, that the Internet fight against it actually impacted national policy. Here's a memory jog if you need it
8. SpaceX's launch to the International Space Station. For the first time, a privately held company delivered cargo to astronauts onboard the ISS – a long-awaited step in space exploration. That the name of the spacecraft was the Dragon? Deliciously nerdy icing on the cake.
7. The Firefly reunion at San Diego Comic-Con. Ten years after the series' debut and cancellation, Josh Whedon, Nathan Fillon, and crew took the stage to celebrate the show, its enduring legacy, and – above all - the fans. Watch the video and have tissues on standby. I'm getting verklempt all along again....
6. The Mars Curiosity Rover. et another big science story, and really, who didn't pay attention to this when it arrived on Mars? Mind-blowing science moment of the year: an astonishing, high-definition video of Curiosity's high-speed descent – taken by Curiosity itself. Smile-inducing science moment of the year: the congratulatory giddiness in the Control Room skip to the last 2 minutes) among straight-laced dudes, nerds, old hippies, an Alec Baldwin stand-in, and THIS guy.
5. D&D Next announcement. Last January, in a well-orchestrated display that got mainstream attention, Wizards of the Coast announced it was developing a new version of Dungeons & Dragons. Since then, hoping to win back many gamers who disliked 4E, WotC has been conducting a smart, open, ongoing, and well-received public playtest – nearly the opposite of how it rolled our 4E. In terms of its arrival in a hungry marketplace, the timing as perfect, for reasons I described here. The final version of the game is likely still a year and a half away, which gives the developers and the fans plenty of time to tweak the rules – and gives WotC time to figure out how to salvage the online DDI, which has been losing subscribers and revenue ever since 4E presumably became Dead System Walking.
4. Kickstarter and big, BIG bucks. The crowdfunding site Kickstarter has been around for a couple of years (hey, it helped us to fund Foreshadows!), but it made big news in 2012 with multiple projects that raised more than $1 million in support, including the Reaper Miniatures project in August that raised over $3.4 million. Wow.
3. Marvel's The Avengers and the triumph of geek media. You know the story with Joss Whedon's film. Enormously successful, enormously entertaining (my quickie review here). But it was not alone! From The Amazing Spider-Man to a reanimated Walking Dead to the success of CW's Arrow series to Entertainment Weekly's cover story (!) on Doctor Who a first for ANY British TV show), 2012 will go down in history as a banner year for geek properties in mainstream media. Unfortunately, 2012 is noteworthy for another reason….
2. The Dark Knight Rises shooting. There have been gun-related massacres before and – horrifically – even worse gun-related massacres to come later in the year. What made the insanity and death in Aurora, Colorado uniquely disturbing for us was that in happened in a movie theater, the place that has long served as our mental refuge from often-grim reality.
1. Disney revives Star Wars. Winner, hands down – perhaps the biggest story of the past 10 years. When Disney bought Lucasfilms and immediately announced that new Star Wars films were already in the Mouse Pipeline, fans rejoiced. After a couple of decades of reissues, digital retweaking (Han shot first, damn it!), and Jar-Jar Binks, we're all excited to see fresh minds and talents bring balance to the Force. And, yes Leia is a Disney princess.

Honorable mention: The publication of Foreshadows: The Ghosts of Zero. I can't let 2012 go without mentioning a personal highlight. Not only was I thrilled to have my first work of speculative fiction published, I was also honored and delighted to share Foreshadows' table of credits with a ton of fabulously talented people, including Jeff LaSala, Ari Marmell, Rosemary Jones, Ed Greenwood, and Brian Matthews, whose first novel, Forever Man, is out next month!
Lasandra's Wave,
on route to Punjar, where we hope to find more information about the pirate captain Longshanks and the mysterious metallic triangles that have aroused the murderous interest of many people (and freakin' beholders).
Here, once more, is the party lineup:
Mike: Tarthon, minotaur barbarian – Have Axe, Will Travel
Steve: Grumhorn, a.k.a. "Grue," dwarf invoker – The Immovable Object. Truly.
Me: Graaver Stormcry, longtooth shifter druid-fighter – Sees Life as a Series of Punching Bags
Willie: Sebastin, githzerai ranger – able to nab a Dunkin' Donuts Munchkin at fifty paces
Felix: Manael, tiefling bard – new character to come!
Part 1: The Green Mile (After Mile After Mile...)
Following the party's vicious betrayal by Manael
(vile pigeon-murderer!!) and the attack of the hydra, there are many injuries among the crew (and the adventurers), and Captain Cross orders a quick assessment of the damage to
Lasandra's Wave.
Cross is pretty angry – and is understandably not in the mood to trust any of the party after what just happened. Still, Grue earns some points back by volunteering to use a Make Whole ritual to repair the damage to the ship's mast and hull. Good timing, too, as a squall is approaching, perhaps four hours away. Cross also says that because of the oil used to drive off the hydra, the ship's remaining supply is low.
The rest of us try to process the day's events. How long has Manael been planning this? Is the mysterious Xollox connected to the metallic triangle and the hunt for Longshanks' treasure? Why is Hallowell so concerned about the summer fashions in Punjar? We don't believe the hydra was part of some master plot – it's more likely that Manael decided the hydra's appearance was as good a time as any to make his move.
Stormcry takes out the triangle and concentrates on it. The shifter feels as though he could reach into someone else's mind... but that's as far as he gets. So it's a conduit? Hmm. He tries to concentrate next on Manael the Goat-Fornicating Betrayer ... no luck. Does "contact" require another triangle on the other end (a la the Palantir in Lord of the Rings)? Questions for a later time.
We endure a really rough night. The squall is brutal. The adventurers take the lead in tending to the ship during the first half of the stormy night. Grue and Stormcry don't fare so well in the rocky seas and are ordered to go below decks by Nathan... but not before several of us spot something large flying overhead. Twice! In any event, we have regained some respect in Cross' eyes, as it's apparent to everyone that the ship wouldn't have survived this far without the repairs from Grue's ritual.
Oops, maybe spoke too soon... around 4:30 a.m., there's a big crash. The mast has broken again! The ship is spinning, Grue has no more residuum on hand to perform another Make Whole ritual, and Hallowell insists on singing Dead or Alive's "Spin Me Round." Nevertheless, Grue, Tarthon, Stormcry, and five crewmen are able to use sheer brute force to restore the mast. Although the worst of the storm seems to be over, we're not done yet. Still, Nathan sees that we're all spent and he orders us back below to rest. We promptly do so and pass out.
Around 7 a.m., we wake up and realize that the ship isn't rocking. Grue asks, "Are we dead?" We realize that not only is the ship not rocking, it's not moving. At all. We go on deck to join the others. Through a thick fog, we can make out that the ship is resting on a thick, greenish surface. Vegetation? Skin? Boogers?
We quickly see that it's matted, rotting seaweed. There are no noises, no movement, no birds. As the mists burn away in the morning sun, we can see in the distance another ship... and another... and another. And the thick, green, Sargasso surface stretches as far as the eye can see. One awestruck, terrified crewman, Curtis, whispers, "Journey's End." Another crewman quickly tells him to shut up. The rest of us start getting Ravenloft and Twilight Zone heebie-jeebies. This situation is NOT GOOD. We tell our resident sage, Elbarr, to come up. Captain Cross looks through the spyglass and sees eight to 10 another trapped vessels, and she can barely make out the sight of the ocean, far in the distance. Curtis continues to whisper morale-killing doom and gloom, so we suggest he go on grick-watching duty below decks. Heh.
We suggest to Cross that a few of us walk over to the closest ship. At the very least, we might find oil. So off Stormcry, Tarthon, Grue, and Sebastin go. We poke ahead with the trusty 10-foot pole as we walk along the spongy, stinky, seaweed surface. It's thick and deep. In fact, it feels completely solid after the first few feet. As we walk around the bow of the closest ship, we can see its name:
Mistcutter.
By the lacy undergarments of Ildavir, this is Captain Longshanks' ship!! It's been missing for about nine years.
We managed to climb up the kelp on the hull and get to the main deck. Grue falls once. Stormcry senses that the ship has been here for several years, at least. We're probably the first ones to set foot on the Mistcutter in that time. It's eerily quiet, other than an occasional, unsettling creak. As we go down the stairs, we see that the door has been broken. Our quick examination shows that it was barred – from the inside. EeeeEEEEEeeee.... can we leave now?
Down on the main crew level, we see that the next set of stairs – leading to the lower decks and the hold – continues down into muck. Our knowledge of ship design is pretty lame, but we know that there may be another one or two levels below – and they've been sucked into the Sargasso. In the crew quarters, we see no signs of life, just more muck and broken bunks and chairs. Was there a fight? If so, where are the bodies? One bit of good news: stuff! We spot two casks full of oil and several chests. Stormcry uses his crowbar to open the chests. In total, we find: a pouch with assorted gems; two silver armguards inscribed with draconic skulls; an old gray cloak; a wooden, twisted, rune-covered staff with a silver cap; 68 silver bars (worth 200 gp each), plus 260 gp and 402 sp. As we're opening the chests, Sebastin runs back up to give
Lasandra's Wave
the "We're still alive for another few minutes" sign.
On this deck we find the captain's quarters. Its broken door had also been barred from the inside. In the center of the room is a table, on the edge of which a book is teetering – over a hole in the floor leading to the muck-filled levels below. The ship's occasional creaking becomes a groan. The ship moves slightly – and the book falls into the hole. Stormcry jumps in after it! Suddenly, several vine-like tendrils burst out of the muck to grab him! With arrow and
avenging light,
respectively, Sebastin and Grue destroy two of the tendrils, and Stormcry nabs the book and is quickly pulled out by Tarthon. It's probably a good idea to get out of here. Because walking back across the seaweed surface with several chests full of silver bars sounds both risky and impractical, we decide to drop one of the chests over the side to see if the surface is really like a skin. Sebastin and Stormcry, the two members of the party perhaps best in tune with nature, indeed notice – and feel – a reaction as the heavy box hits the surface. We decide to keep the jewelry and silver armguards hidden from Captain Cross and the rest of the crew, but we'll share the gold and silver coins. The chests of silver bars will have to stay where they are, until or unless we figure a way out of this.
We return to
Lasandra's Wave
and note with concern that the ship has already sunk several inches deeper into the muck. We share the full details with Cross, Hallowell, Nathan, and Elbarr. We also examine the book, which is truly the log – and last words – of Captain Longshanks himself. His account is a terrifying one and has already been optioned by Hammer Films. Longshanks mentioned that there are four triangles and that he had acquired two. Once he found the other two, he would return to the Star. However, the
Mistcutter
became trapped in this muck just as we did. Members of his crew disappeared only to return as the walking dead – their bodies taken over and animated by the evil, plant-like intelligence that resides at the center of this decaying land. In his final entry, Longshanks says, "I know now that these were but the children of what dwells at this land's heart. I must seek the mother at this heart, for to destroy the mother is to destroy the brood. If only this had been done to the Kardashian family... I can hear voices whispering all over us. They draw near."
Ack. So then... guess we'll have to attack the "Black Heart." Happy happy joy joy – NOT! Cross isn't thrilled at the party's plan to depart at first light for the center of the Sargasso, but our options are few. The ship can't move, and the same "muck zombies" that came for Longshanks will presumably come for us. As "Plan B," another group will begin the arduous task of physically carrying one of the ship's longboats to the edge of the region. If we fail, at least there's a tiny chance of some folks making it out of here. As our ship is the most recent arrival, and since the land seems to grow from the center out as the "mother" absorbs more lives, Team Longboat might encounter fewer hazards. And monkeys might fly out of my butt. The adventurers agree to sleep on deck tonight and take watch. We expect the worst.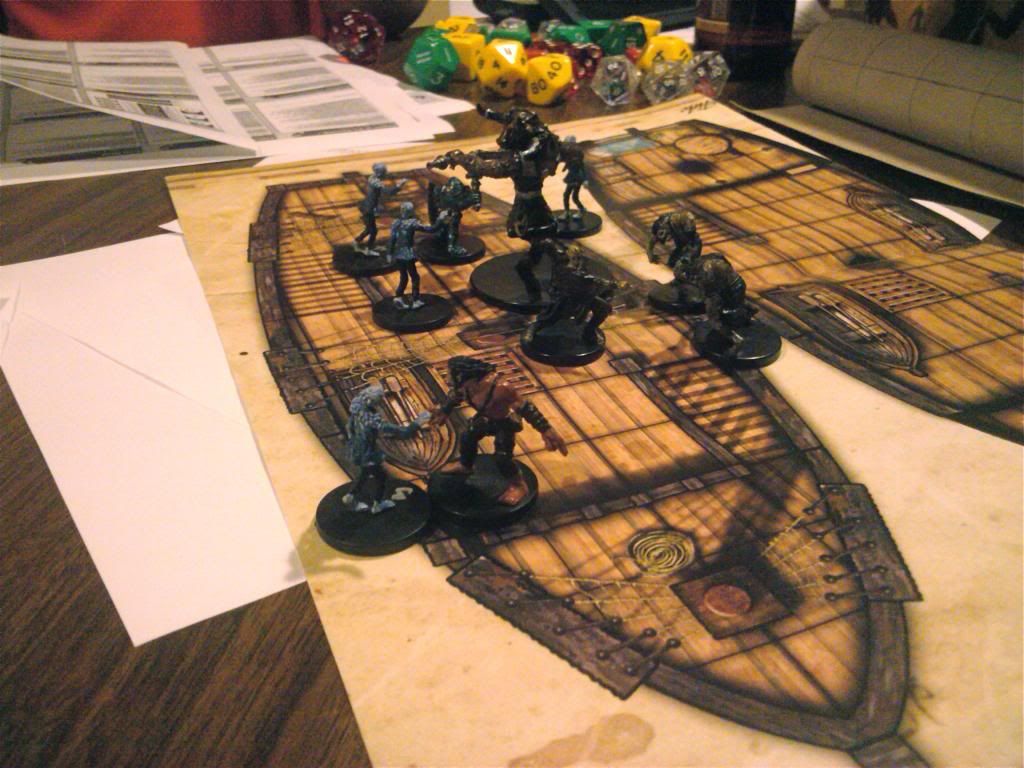 And we're not disappointed! Creepy whispers of "Outsiders... outsiders... Warriors… come out to plaAAAY…" begin in the darkness outside the ship. Seconds later, six kelp-covered and tattered "muck zombies" clamber over the railing and attack! Their first, off-balance, "Thriller" moves miss Grue and Tarthon. Sebastin hits with
rapid shot.
Tarthon hacks into one with
brutal slam
and knocks it over the side! Grue successfully hits with
astral wind.
Stormcry hits one with
grappling strike,
yet the zombie escapes the grab. Grue is struck, and two zombies pile on Tarthon, who tries to retaliate with
escalating violence.
Grue again hits with
astral wind.
Stormcry summons two spectral lions, which miss their targets. Two more zombies begin to climb up! One of the first zombies misses Grue, but another gets a good shot on Tarthon. Sebastin lets fly with two arrows via
rapid shot
– and knocks both of the new arrivals back over the edge! Tarthon finishes off his opponent with
pressing strike.
Grue blasts another with
avenging light.
One muck zombie clobbers Sebastin, while another creature's blow glances off Tarthon's armor. Sebastin steps back, lets fly with
clever shot,
and sends his foe over the side. Stormcry knocks one to the deck and stamps on its neck with
crushing foot.
Nat 20! Tarthon gets into position with
pressing strike
against the zombie that Stormcry pinned and – finally – gets to use the Headman's Chop feat to deal bonus damage. 21 points! Suddenly, though, the hatch on which Tarthon is standing creaks under the minotaur's massive weight and – CRASH!! Tarthon plummets to the deck below! Eventually, however, we're able to clear the deck, thanks mostly to Sebastin's clever shot and Grue's astral wind at the end.
Now what? We can't deal with this for much longer. One way or another, this must be over by tomorrow night. Sebastin fires a flaming arrow into the darkness toward the Mistcutter. We see three more muck zombies approaching from way off, and we realize with horror that they're coming in waves from the different ships. And there are a LOT of ships.
(
Continue to Part 2: Journey to the Center of the Muck
Collapse
)
We continue recapping Rick Maffei's 4e D&D campaign, set in the world of Áereth (from Goodman Games' Dungeon Crawl Classics). We are currently at sea aboard
Harken back, True Believers, to a more innocent time... a time when a superhero comic could feature a satanically powered bike rider stumbling across a ethereal recreation of the birth of Jesus Christ -- and
nobody freaked out.
Spin yourself round, round, baby, right round to 1975: the year that Francisco Franco died (really!), the disposable razor was invented,
Born to Run
was released, and
Marvel Two-in-One
#8 hit the stands.
Johnny Blaze, whose pact with the devil had gone awry (don't they always?), had once again transformed into the skull-headed, hellfire-blazin' Ghost Rider. While riding across the Arizona desert on Christmas Eve, he comes upon -- the Three Wise Men?! Meanwhile, in New York City, Reed Richards of the Fantastic Four sees in the heavens that night... yep, a new star. The Ever-Lovin' Blue-Eyed Thing decides to investigate, which is good, since he was the star of this team-up title.
In this recreated Nativity in the desert, Ghost Rider and the Thing discover that all the inhabitants of "Bethlehem" are Native Americans of a nearby tribe, their minds and their lands transformed by an
old
FF villain, the Miracle Man! (I do not kid.) To sneak inside the village to stop, um, geez, the sci-fi/mystical recreation of Jesus, I guess, our mismatched heroes disguise themselves as two of the three Wise Men. Yes, that's right, I'm talking about the rocky behemoth and the flaming-skull guy. You got a problem with that, Effendi?
After a battle, Ghost Rider and the Thing defeat the Miracle Man, who is then dragged away by the pissed-off spirits of the tribe's ancestors, and everything goes back to normal, just in time for the real Christmas to begin. So let's see... Satanic hero saving Xmas? Check. Subversion of the Christmas myth? Check. Goofy impersonation of Nativity figures? Check. And for extra credit, gratuitous addition of Native American mythology to the tale? Bingo! I
love
this story! I
love
'70s comics! And I love the idea that this story would've fueled 24 hours of outrage on Fox News if it had come out this year!
Kudos to the late, great, demented, brilliant Steve Gerber who wrote the tale, plus Scintillating Sal Buscema on art, with the cool, "WTF?" cover by the legendary Gil Kane, shown here. As good as some comics are now, I miss this period. It was innocent, ridiculous, and fun, in a way that is hard to detect these days, in any medium.
Happy Holidays!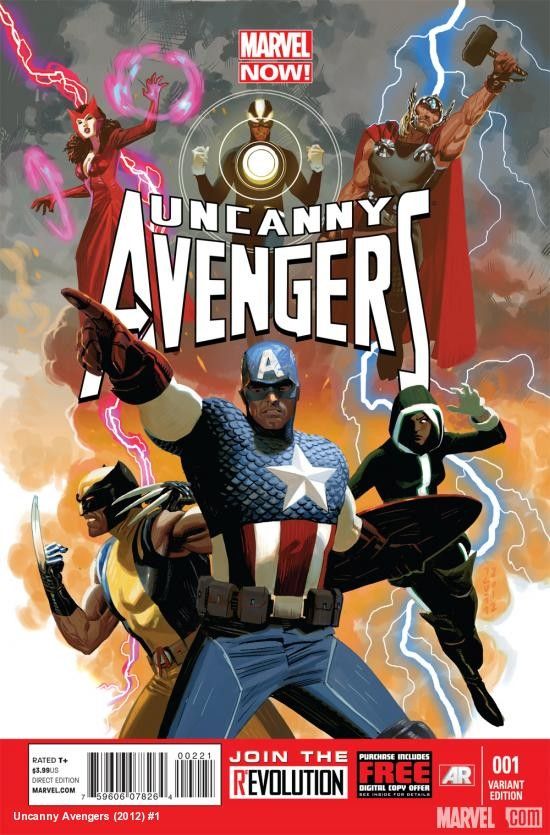 Thought
it's been a while
since the first part of this post (focusing largely on DC's New 52), the reason for the delay is a simple one: None of the "Marvel NOW!" titles were even close to being released! But now a bunch of them have been. So what's the early verdict? Are the new Marvel titles a reboot? Are they packaged in a way that's appealing to the ever-elusive and perhaps fictional "new comics reader"?
Question 1: Reboot?
Definitely not. The titles so far released are all part of the current continuity of Earth-616 (for the fellow geeks among you). In fact, several of them directly spin out of the aftermath of the year's big Marvel "event,"
Avengers vs. X-Men
– a 12-issue series (not counting a multitude of tie-ins) that was sometimes exciting, occasionally clever, rarely surprising, and at least three issues too long.
First out of the gate is
Uncanny Avengers,
by Rick Remender and John Cassaday. Back at the beginning of
Avengers vs. X-Men,
Cyclops cuttingly asks Captain America why the Avengers – hailed as protectors of the planet – haven't stepped up to protect the world's mutants from many recent attempts to exterminate them. In
Uncanny Avengers
#1, Cap concedes that Cyclops had a point: The Avengers should have been there to help. So he recruits Cyclops' brother, Alex Summers (a.k.a. Havok), to lead a sub-team of new & old Avengers tasked with protecting mutants. If you've read Remender's wild, just-concluded run on
Uncanny X-Force
(buy the collections!), you know he can come up with crazy, exciting takes on old situations. He's a mutant hybrid of Warren Ellis and Joe Haldeman. Based on what I've seen in
Uncanny Avengers,
he hasn't changed, which is a good thing. Case in point: The Red Skull returns, steals something that 's, well, GROSS, and now has global powers of propaganda. Woo hoo!
Question 2: Appealing to new readers?
In most cases, yes, with the caveat that "new readers" probably means "folks who read comics years ago and recognizes many of the superheroes from the '60s or '70s." C'mon, how many of these illusory "new readers" are coming into a comic book store completely ignorant of comics? That said, it doesn't make the task of appealing to those readers any easier. You have to be able to launch a new chapter in the hero's life, while including familiar elements AND be entertaining to the regular readers of that title. Marvel's poster children for doing the OPPOSITE of this have been the X-Men.
As described here
, X-Men continuity is migraine inducing. Forget about "new readers" attracted by the successful movies – even longtime fans don't know what the hell is going on!
Another
AvX
follow-up offers a solution:
All-New X-Men,
written by Brian Michael Bendis and drawn by Stuart Immomen. Regardless of what you think of Bendis' writing, the concept is cool and is perfect for his style: Hank McCoy, a.k.a. the Beast, greatly disturbed by the events of
AvX,
goes back in time to retrieve the ORIGINAL X-Men of the Lee/Kirby days in a desperate attempt to alter the timeline and save the mutant race. For the young X-Men, the Marvel Universe of the present is a grim world. I haven't gotten to this title yet (issue #3 is out as I type), yet the reviews have been positive, e.g.
here
,
here
, and
here
.
One title whose first issue I HAVE read is
Indestructible Hulk,
by Mark Waid and Leinil Yu. Again, it's a good launch point for all readers. Want a Hulk and Bruce Banner that's recognizable to anyone, whether you're a die-hard comics reader, a fan of the
Avengers
movie, or someone who remembers only Bill Bixby and Lou Ferrigno? Here you go. Waid's brilliant take on this is, essentially, "Hulk, Agent of S.H.I.E.L.D." Bruce Banner finds S.H.I.E.L.D.'s current director, Maria Hill, and tells her that he's a scientific genius, dammit, right up there with Reed Richards and Tony Stark. However, those two guys routinely get credit for saving the world whereas Banner fears that his tombstone will read "Hulk Smash." Now, after years of trying to rid himself of the Hulk, Banner has concluded that the Hulk is an "incurable condition" (hence the "Indestructible" in the title) and he offers his big brain to S.H.I.E.L.D. in exchange for assistance in helping him manage that condition. Expecting Director Hill to be skeptical – and she's downright terrified at times during their quiet conversation in a small-town diner – Banner arranges a test run. I'll leave it at that.
The first issue is very smart, and the idea is so good that I'm amazed no one ever thought of it before. Damn entertaining. I'm eager to see what Waid and Yu have planned.
Recapping: To boost sales, DC Comics chose another reboot, while Marvel has gone with a massive revamp – complete with new creative teams on almost every title – yet kept the continuity intact. Is one approach better than the other? Rebooting allows for more creative freedom, since you're not tied to the past, yet repeated rebooting creates its own problems. How can you expect to maintain continuous readership if the "reality" of the universe changes every few years? That's like looking at your old comic books and thinking, "Oh that's right – this no longer happened. It doesn't count."
It's a similar situation on network TV, where new dramas with complex storylines have trouble attracting viewers. Why invest time and emotion in a new TV series if there's a good chance the network will cancel it after a couple of months? (
FlashForward,
anyone?
Alcatraz?
) Discuss!
Next year's
Iron Man 3
will be the first Marvel film since
The Avengers
made us giddy and took in a gazillion dollars worldwide. It also marks the start of what Marvel refers to as
Phase 2 of the Marvel Cinematic Universe
. Fancy schmancy talk? Sure! Has Marvel Studios earned the right to use such fancy schmancy talk? SURE!
So what hints can we glean from the trailer released this week? We can't necessarily glean the film's quality - hey, the trailer for
Iron Man 2
made that film look great, remember? - but we can sense the film's tone. In one word:
ruthless.
If you haven't seen the trailer yet, here you go:
Certainly not the best trailer I've ever seen. Nevertheless, grim stuff, right? Closer in feel to
The Dark Knight Rises
than
The Avengers.
And that's probably the right way to go. While I've grumbled about the darker, Batman-ish atmosphere that was in this summer's
The Amazing Spider-Man
and next year's Superman relaunch,
Man of Steel,
those two movies are marking the launch/relaunch of potential franchises, where first impressions matter. (Side note: Superman, DARK? Really? He's supposed to represent our innate idealism, a belief in something greater and stronger. He's not Batman! But I digress.)
For Tony Stark, Robert Downey, Jr., and this franchise, it's different. This is Film #3 - or #4 if you count
The Avengers.
And you
should
count it.
Iron Man 3
certainly counts it. While the action in the trailer isn't particularly exciting, the promise that it holds
is
exciting. The "ruthless" feeling that it carries rests on the reference to the events in New York City, complete with Hiroshima-like images of victims' shadows burned into buildings. (Granted, an event in
Iron Man 3's
plot could be responsible for those shadows, yet the trailer's editing clearly wants us to link them to this year's film.) It calls to mind Stark's line to Steve Rogers in
The Avengers:
"We're not soldiers!" Well, Tony, you sort of are now. And after a gruesome battle and a near-death experience, what comes next? Stark seems to be going through his own version of Post-Traumatic Stress Disorder.
On top of that, the stakes have been raised. You think the old Military/Industrial Complex was twitchy at the start of
Iron Man 2?
Hell, now Stark is part of a world-altering force, the Avengers! Those same shadowy people are
super
-twitchy now. Hence the appearance of "the Iron Patriot" - reportedly a repainted War Machine armor, since Norman Osborn (a.k.a. comics' the Green Goblin and, much later, the Iron Patriot when he replaced Nick Fury as the country's #1 cop) belongs to Sony/Columbia's Spidey franchise and so, alas, don't expect any crossovers.
We also get a good look at two of the other big concepts in the film: the Extremis armor (wow, wonder how much - if any - of
Warren Ellis' story will make it here
?) and ... Ben Kingsley as the Mandarin! Cool. I like the visual mix of Genghis Khan and Osama bin Laden, as well as how it completes the story kicked off by Stark's imprisonment at the hands of "the Ten Rings" terrorist groups in the first film.
Did the trailer have me jumping up and down? Nope. It's simply a good trailer. Again, a so-so film can easily fool you if its trailer kicks ass. Yet the ruthlessness of
Iron Man 3's
trailer is surprising - and that's a good thing these days. I'm interested in seeing what Downey and director Shane Black have in mind.
But guys, what the hell is with the armor's red-and-WHITE color scheme? He looks like a can of Coke!
It's been far too long since I talked about the greatness of
Hammer Films
, the British studio that resurrected the horror genre. In its heyday from the late 1950s through the early '70s, Hammer treated the world to a zombie-horde of horror, making full use of Technicolor, atmosphere, music, and beautiful women. It also turned Peter Cushing and Christopher Lee into international stars. (You young whippersnappers out there may better know Cushing and Lee as, respectively,
Star Wars'
Grand Moff Tarkin and
Lord of the Rings'
Saruman. Now get off my lawn!)
Hammer Films sunk its fangs into me when I was just a kid in the late '60s, thanks to
Famous Monsters of Filmland
and
Monster Times
magazines. The mark was made permanent when my father took me to see a Hammer movie in an honest-to-Frankenstein theater:
Dracula A.D. 1972,
at the old Paramount Theater on Staten Island, NY. I had seen Lee (as Dracula) and Cushing (Van Helsing) previously in a couple of films on TV (even when it meant staying up to 2 a.m. in those pre-cable, pre-VCR days), but
here,
for the first time on the Big Screen?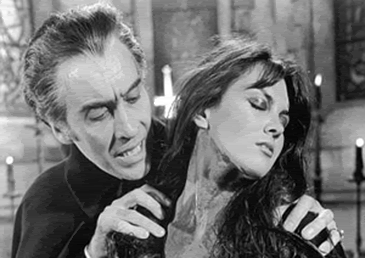 Wow. I was damn impressed. (Thank you, Dad.) Is it a great film? Nah. It's good, but it has problems, notably a lack of confidence about how to mix Dracula with the swingin' Mod vibe of England in the early Seventies. Yeah, baby! Yet none of that mattered. Cushing was a consummate actor, meticulously using all available props in nearly every scene to illustrate different aspects of his character. Lee was supremely imposing and majestic, and I wasn't surprised to discover many years later that he is descended from Italian royalty, with his ancestry possibly going all the way back to Charlemagne. To my 12-year-old self, though, this biographical info took a back seat to the
biological
info that ran through me when I beheld Caroline Munro, Dracula's first victim in the film. Again... wow. (Thank
you,
Caroline!)
Anyway, if you're reading this blog, you likely already know the awesomeness of Hammer, and you may also know that, like the Count, Hammer returned to life recently, producing several new horror films, including
Let Me In
and the well-received, spooky thriller
The Woman in Black,
starring Daniel Radcliffe in his first post-
Potter
role.
However, you may
not
know about
1951 Down Place,
an excellent and relatively new podcast. In each installment, hosts Casey, Derek, and Scott examine one Hammer film in depth, sharing their thoughts and lots of behind-the-scenes trivia. They intend to cover as much of Hammer's catalog as possible, and the podcast isn't limited to the horror films. September's film, for instance, was
Hell is a City,
a 1959 film noir, believe it or not. If you're a film fan, you should check out the podcast. If you're a Hammer fan, you NEED to subscribe to it on iTunes today. I want to stake myself for not coming across it months ago. ARRRGH! And if you're on Facebook, visit their discussion group (which is different from their Fan page).
See
the Hammer tag
for a few other posts here, including a salute to Mr. Lee. Lastly, inspired by 1951 Down Place's three hosts, here's my Top 5 list of Favorite Hammer Films:
Dracula Has Risen From the Grave. As I said in the Chris Lee post, while this may not be in the top rank of Hammer's movies, it is the quintessential Hammer film. Everything that made Hammer remarkable is in perfect display here, from the cinematography to the sets to the remarkable Veronica Carlson to Lee himself.
Captain Kronos: Vampire Hunter. Worship this crazy, clever movie! Why? Here's why. Better still, watch the whole movie right now on Hammer's YouTube channel. Bonus: The podcast informed me that there's a new novel adaptation out as well!
The Devil Rides Out. Intrepid investigators, led by Lee (in a rare appearance as a good guy), face off against Satanists and black magic in the 1920s. Fun! It has thrilling direction by Terence Fisher and a terrific script by Richard Matheson, even if the ending's deus ex machina is hard to swallow. The film is also a Call of Cthulhu RPG come to life!
Horror of Dracula. Hammer's first Dracula film and the best. Cushing, always great, excels as Van Helsing, whose fight with Lee's Dracula concludes in a dialogue-free, pulse-pounding final two minutes that is among horror cinema's finest moments.
Updated: Frankenstein Must Be Destroyed. The night after I wrote this post and placed Dr. Jekyll and Sister Hyde in the #5 spot, Baron Victor Frankenstein haunted my thoughts, demanding recognition. And he's right. Hammer's superb Frankenstein series focused on the creator, not his creations, and was anchored by the riveting, chilling performance of Peter Cushing as the thoroughly vile baron. In this, the fifth of the series, Cushing gives one of his finest performances. From the kinetic opening to the tragic, nobody-wins ending, Cushing's Baron Frankenstein again shows why he's one of the cruelest, coldest sonuvabitches in film. What he does in this film...! Director Terrence Fisher, who helmed many of Hammer's finest, is back here, and I dare you not to feel the tension during the flower-bed sequence. Yes, you read that correctly.
Honorable Mention:
Dr. Jekyll and Sister Hyde.
Yes, "Sister" Hyde! It's certainly one of the most orignal and wildest spins on Stevenson's classic tale! With a good script by Brian Clemens (
Captain Kronos
and the Avengers TV series) and directed by Hammer staple Roy Ward Baker, the movie overcomes poor pacing and stands out because of its two stars: Ralph Bates as Jekyll and the mesmerizing Martine Beswick as his homicidal better half. Unfortunately, the DVD been out of U.S. circulation for years. C'mon, Hammer, get this baby on Blu-ray!
Current Mood:

rejuvenated