It's been far too long since I talked about the greatness of
Hammer Films
, the British studio that resurrected the horror genre. In its heyday from the late 1950s through the early '70s, Hammer treated the world to a zombie-horde of horror, making full use of Technicolor, atmosphere, music, and beautiful women. It also turned Peter Cushing and Christopher Lee into international stars. (You young whippersnappers out there may better know Cushing and Lee as, respectively,
Star Wars'
Grand Moff Tarkin and
Lord of the Rings'
Saruman. Now get off my lawn!)
Hammer Films sunk its fangs into me when I was just a kid in the late '60s, thanks to
Famous Monsters of Filmland
and
Monster Times
magazines. The mark was made permanent when my father took me to see a Hammer movie in an honest-to-Frankenstein theater:
Dracula A.D. 1972,
at the old Paramount Theater on Staten Island, NY. I had seen Lee (as Dracula) and Cushing (Van Helsing) previously in a couple of films on TV (even when it meant staying up to 2 a.m. in those pre-cable, pre-VCR days), but
here,
for the first time on the Big Screen?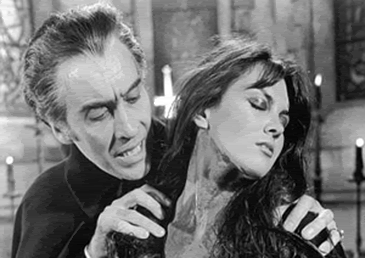 Wow. I was damn impressed. (Thank you, Dad.) Is it a great film? Nah. It's good, but it has problems, notably a lack of confidence about how to mix Dracula with the swingin' Mod vibe of England in the early Seventies. Yeah, baby! Yet none of that mattered. Cushing was a consummate actor, meticulously using all available props in nearly every scene to illustrate different aspects of his character. Lee was supremely imposing and majestic, and I wasn't surprised to discover many years later that he is descended from Italian royalty, with his ancestry possibly going all the way back to Charlemagne. To my 12-year-old self, though, this biographical info took a back seat to the
biological
info that ran through me when I beheld Caroline Munro, Dracula's first victim in the film. Again... wow. (Thank
you,
Caroline!)
Anyway, if you're reading this blog, you likely already know the awesomeness of Hammer, and you may also know that, like the Count, Hammer returned to life recently, producing several new horror films, including
Let Me In
and the well-received, spooky thriller
The Woman in Black,
starring Daniel Radcliffe in his first post-
Potter
role.
However, you may
not
know about
1951 Down Place,
an excellent and relatively new podcast. In each installment, hosts Casey, Derek, and Scott examine one Hammer film in depth, sharing their thoughts and lots of behind-the-scenes trivia. They intend to cover as much of Hammer's catalog as possible, and the podcast isn't limited to the horror films. September's film, for instance, was
Hell is a City,
a 1959 film noir, believe it or not. If you're a film fan, you should check out the podcast. If you're a Hammer fan, you NEED to subscribe to it on iTunes today. I want to stake myself for not coming across it months ago. ARRRGH! And if you're on Facebook, visit their discussion group (which is different from their Fan page).
See
the Hammer tag
for a few other posts here, including a salute to Mr. Lee. Lastly, inspired by 1951 Down Place's three hosts, here's my Top 5 list of Favorite Hammer Films:
Dracula Has Risen From the Grave. As I said in the Chris Lee post, while this may not be in the top rank of Hammer's movies, it is the quintessential Hammer film. Everything that made Hammer remarkable is in perfect display here, from the cinematography to the sets to the remarkable Veronica Carlson to Lee himself.
Captain Kronos: Vampire Hunter. Worship this crazy, clever movie! Why? Here's why. Better still, watch the whole movie right now on Hammer's YouTube channel. Bonus: The podcast informed me that there's a new novel adaptation out as well!
The Devil Rides Out. Intrepid investigators, led by Lee (in a rare appearance as a good guy), face off against Satanists and black magic in the 1920s. Fun! It has thrilling direction by Terence Fisher and a terrific script by Richard Matheson, even if the ending's deus ex machina is hard to swallow. The film is also a Call of Cthulhu RPG come to life!
Horror of Dracula. Hammer's first Dracula film and the best. Cushing, always great, excels as Van Helsing, whose fight with Lee's Dracula concludes in a dialogue-free, pulse-pounding final two minutes that is among horror cinema's finest moments.
Updated: Frankenstein Must Be Destroyed. The night after I wrote this post and placed Dr. Jekyll and Sister Hyde in the #5 spot, Baron Victor Frankenstein haunted my thoughts, demanding recognition. And he's right. Hammer's superb Frankenstein series focused on the creator, not his creations, and was anchored by the riveting, chilling performance of Peter Cushing as the thoroughly vile baron. In this, the fifth of the series, Cushing gives one of his finest performances. From the kinetic opening to the tragic, nobody-wins ending, Cushing's Baron Frankenstein again shows why he's one of the cruelest, coldest sonuvabitches in film. What he does in this film...! Director Terrence Fisher, who helmed many of Hammer's finest, is back here, and I dare you not to feel the tension during the flower-bed sequence. Yes, you read that correctly.
Honorable Mention:
Dr. Jekyll and Sister Hyde.
Yes, "Sister" Hyde! It's certainly one of the most orignal and wildest spins on Stevenson's classic tale! With a good script by Brian Clemens (
Captain Kronos
and the Avengers TV series) and directed by Hammer staple Roy Ward Baker, the movie overcomes poor pacing and stands out because of its two stars: Ralph Bates as Jekyll and the mesmerizing Martine Beswick as his homicidal better half. Unfortunately, the DVD been out of U.S. circulation for years. C'mon, Hammer, get this baby on Blu-ray!
Current Mood:

rejuvenated